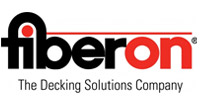 New at Capps! We now offer Fiberon Horizon® Railing, a product with a durable PVC finish that's the perfect complement to your outdoor deck, dock or patio space.
Fiberon's complete system is available is several colors and styles, allowing you to customize your design easily. This strong composite material provides the low-maintenance care you want and couples that with the elegant and traditional look of sculpted wood products.
Whether you need to enclose a large open deck or add a railing to your dock, you can get that finished look with one of Horizon®'s two available profiles. The Mission profile is available in four colors: black, white, dark walnut & bronze; while the Provincial profile is only available in white.
---
In addition to the two distinct profiles, Horizon railing offers the flexibility of three different infill design choices:
square balusters in all four colors
round metal balusters in black
panels in clear or bronze
Available in 42″ and 36″ heights with 6′ and 8′ line sections, Horizon® railing is gorgeous, super strong with a PVC composite core, and easy to build and work with.
---
This is a quality product that stands up to all kinds of conditions and is backed with a 20-yr limited warranty. Marine grade hardware and ADA Compliant systems are also available for special order. Ask the deck professionals at Capps for more information.
Need Help With Your Horizon Railing Project?
Our in-house expert team of deck professionals, with Ryan Cappellari at the helm, are always a visit or a phone call away to answer any question you might have about deck design or related decking products.
We service all Roanoke Valley areas including Smith Mountain Lake, Lynchburg, Rocky Mount, Bedford, Franklin and Pittsylvania counties and beyond.
Feel free to call Ryan at 540-721-2276 or email him to discuss your dock, deck, porch or patio project and how these new Fiberon Horizon products may work for you.
More Fiberon Decking and Railing Resources
Horizon® Railings are designed to complement Horizon® Decking
Homeowners and contractors show their loyalty to Fiberon decking
Topic: Horizon Railing by Fiberon