Herbs are easily grown from seed and can be enjoyed both indoors and out!  Capps offers a fine selection of herb and vegetable seeds.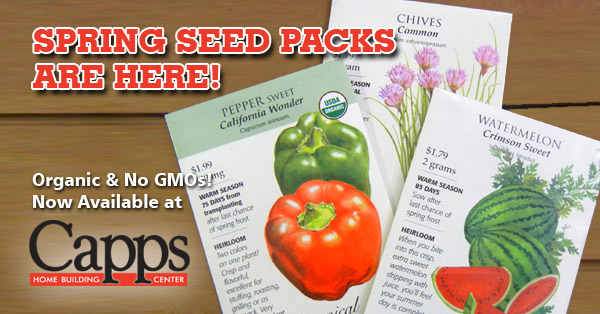 Basil Notes:
There are about 150 species and Sweet Basil is the most common grown.  It is enjoyed for its rich, spicy flavor with a trace of mint, clove and even licorice. Along with basils' wonderful fragrances and flavors, some varieties are also used as attractive ornamentals in the summer landscape.
History tells us in Tudor England, little pots of basil were often given as graceful compliments by farmers' wives to visitors.  In present-day Italy, basil is a symbol of love.
Basil prefers 70 degree soil temperature, a sunny location, little fertilizer, well-drained, rich soil with ample moisture will keep it very happy.  The flower buds should be pinched off, as the production of flowers tends to add bitterness to the leaf flavor.  You can prune every 2 to 3 weeks.