Moneta, VA, March XX, 2010 – Ryan Cappellari, son of Capps Home Building Center founders Dave and Cindy Cappellari, has been named Business/Product Development Manager at the Smith Mountain Lake-based company. His grandfather, the late Amerigo Cappellari, was also involved with the business, which was started as Moneta Building Supply in 1978.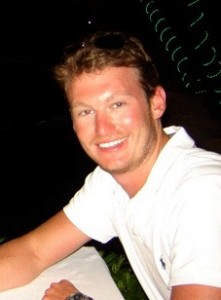 "I always hoped to join the family business one day, I just never thought it would be so soon," said Ryan Cappellari, a 2003 graduate of Franklin County High School who earned a degree in Business Management from the University of North Carolina-Wilmington in 2007. "However, when Dad presented me with an opportunity to work at Capps, I couldn't refuse. The Capps employees have helped me develop so much over the years, and I am extremely excited to be working with them again."
In his new position, Cappellari will focus his efforts on product and business development for the company, which is located in the heart of Westlake Corner.
"Understanding that over the next five years, the building supply industry will see more product and construction advancements than we have seen in the last 15 years, it will be incumbent upon dealers like Capps to lead the advance through products, innovation and training," said Bruce Shelton, Capps' general manager. "We're confident Ryan's training, professional experience and keen insight into the Smith Mountain Lake building market will be a tremendous asset to Capps."
After graduation from UNCW, Cappellari entered the acclaimed Management Training Program for Enterprise Rent-A-Car in Wilmington, N.C. He earned an assistant manager position with the company and was later promoted, serving as branch manager of three stores in the Wilmington area.
"As a teenager, I couldn't wait to get out of Franklin County. Now, that I'm back, I don't ever want to leave again," said Cappellari, who looks forward to boating and golfing at SML in his free time. "The lake has changed so much, and I look forward to seeing it develop even more in the coming years."
About Capps Home Building Center
Capps Home Building Center, formerly Moneta Building Supply, has been providing quality building materials and knowledgeable service to the Smith Mountain Lake community since 1978. Located in a convenient facility at Westlake Corner, Capps offers an extensive inventory of exterior and interior products necessary to complete any new construction or home improvement project for the contractor and the do-it-yourselfer. Capps also features a drive-through warehouse with a state-of-the-art storage system for clean and efficient handling of lumber. Capps' membership in Do it Best Corp. enables the company to offer the consumer brand names and great values on all products. The warehouse stocks more than 65,000 items available for fast delivery to the Westlake store.