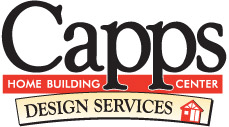 With the recent addition of its 5,000-square-foot design showroom, Capps Home Building Center is excited to offer custom Design Services for homes, docks, decks and garages – for new construction, remodels and additions.
The Capps Design Services solution allows you to work one-on-one with a professional in-house designer to create the custom, cost-effective project of your dreams. We can help with any room, indoor or out, throughout the whole house including kitchens, baths, home offices, libraries, media and entertainment rooms, home theaters, wine rooms, boathouses, decks, docks and more – all from start to finish, floor to ceiling.
The Design Services team at Capps also is able to create 3-D renderings for a variety of projects.
"3D renderings that we can provide allow the customer to get a real feel for their home before the project even begins. That is certainly an advantage in turning a dream into reality. We want our customers to be satisfied from concept to completion." ~ Joe Sellers, Lead Designer
With Capps Design Services, you'll enjoy:
Project Customization – Our design specialists are dedicated to creating a plan that's ideal for YOU. Whether you're building a new home, adding on or renovating, the professionals at Capps will work to create the perfect solution to fit your needs, taste and budget.
Seamless Application – We'll provide a complete set of working drawings designed to meet local building codes.
Cost Effectiveness – Capps, part of the national Do-it Best building cooperative, offers competitive pricing and timely turnaround.
Rebate Advantage – You can qualify for a 50% rebate on design services if materials are purchased from Capps.
Access to Qualified Professionals – The Capps network of contractors, vendors and suppliers offers quality products and services you can trust.
Support and Guidance – Go from concept to completion without the headaches when you take advantage of the experienced and professional team at Capps. They're available to answer any and all questions you may have about your project.
Contact the Design Services team today to discuss your next home project and how we can help. Call (540) 721-6833.
Categories of Available Stock Design Plans:
Clicking on the plan images below will take you to a page where you can download the full PDF plans: