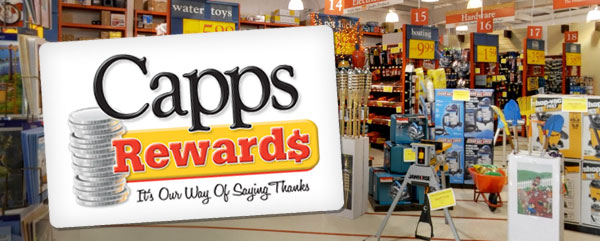 What is the Capps Rewards Program?
It's a free customer rewards program that rewards you for making purchases and remaining a loyal customer.  "It's Our Way of Saying Thanks" to those who have become part of our family.
What are the benefits of the program?
Members only events
Email Birthday Rewards
1 point for every $ spent*
Every 400 points converts to $10 of rewards $$**
How do I become a member?
Simply complete a short application. You will receive your card today and begin earning rewards for your loyalty.
Benefits of providing your email address?
Birthday Rewards – You will receive a $5 coupon in your birthday month.
News – You will receive emails regarding special promotions and upcoming events.
*This applies to pre-tax "in-stock" purchases. Rewards $$ can only be redeemed at Capps.
**Rewards $$ can accumulate up to $500. Any unused rewards $$ will expire after 12 months. 
It's our way of saying Thanks!