Low maintenance decking is in high demand in our area and the Wolf Serenity™ Decking product line offers a wide range of choices, colors, options to help make your outdoor living areas beautiful and affordable.
This exceptionally durable low-maintenance decking is moisture, mold and mildew resistant and also resists rotting, delaminating, splitting and cracking. The bottom line is that it's engineered to stand up to years of enjoyment for your and your family.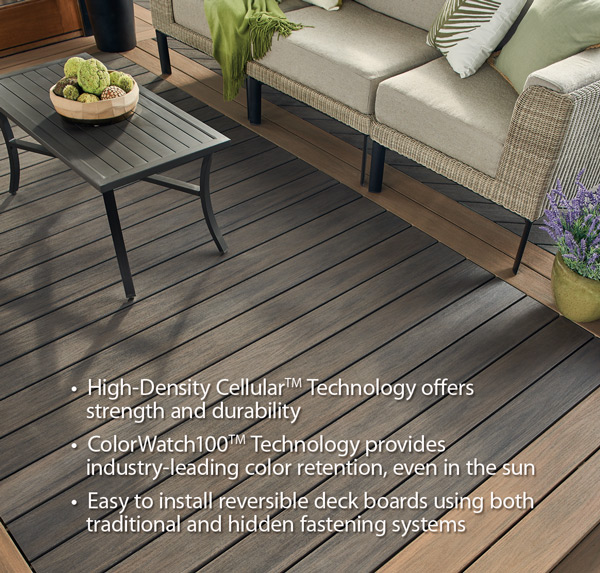 ---
WOLF SERENITY DECKING FEATURES
Perhaps the best feature about Wolf decking is that you'll be able to spend more quality time enjoying your deck without the fuss of caring for wood.
Wolf's High-Density Cellular™ Technology, which offers strength and durability, couples with ColorWatch100™ Technology to provide color retention, even in the sun, so you can expect long-lasting beauty.
The result is a low-maintenance decking that provides the color variation and texture of real wood. Its moisture repellency makes it ideal for rainy, coastal and lake regions.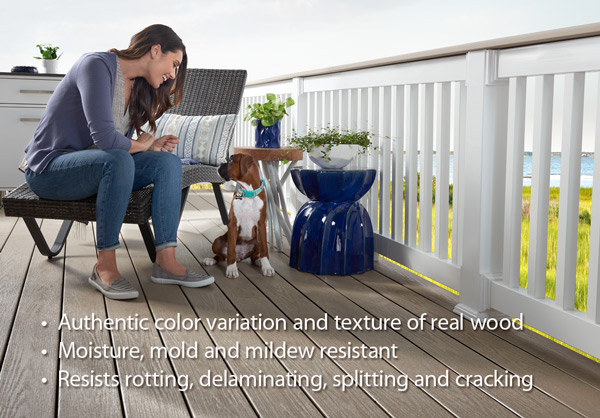 ---
ABOUT WOLF SERENITY DECKING INSTALLATION
Wolf brand reversible deck boards are easy to install using both traditional and hidden fastening systems. Measuring 1″ thick x 5½" wide, Wolf deck boards are available in 12′, 16′ and 20′ lengths as well as ½" x 11 ¾" x 12′ rimboards.
Our experienced professionals at Capps are here to help you plan your materials list for your deck or porch project. We're happy to go over your ideas and project needs so you can be sure to start out on the right foot and build a lasting outdoor addition to your home.
As an added resource, the video below demonstrates how to install WOLF decking. It addresses proper joist spacing, the tools you'll need and fastener options you have for fast, safe deck installation. Two deck design patterns will be discussed as well as proper installation of stair treads.
---
WOLF SERENITY DECKING COLLECTIONS
Capps offers two collections from the Wolf Serenity Decking product line – TROPICAL HARDWOODS and SEASIDE. Ten color finishes are available and products in both collections are backed with a Limited Lifetime Warranty and a 50-Year Stain & Fade Warranty.
NOW STOCKING: SAND CASTLE, HARBOR GREY, AMBERWOOD & SILVER TEAK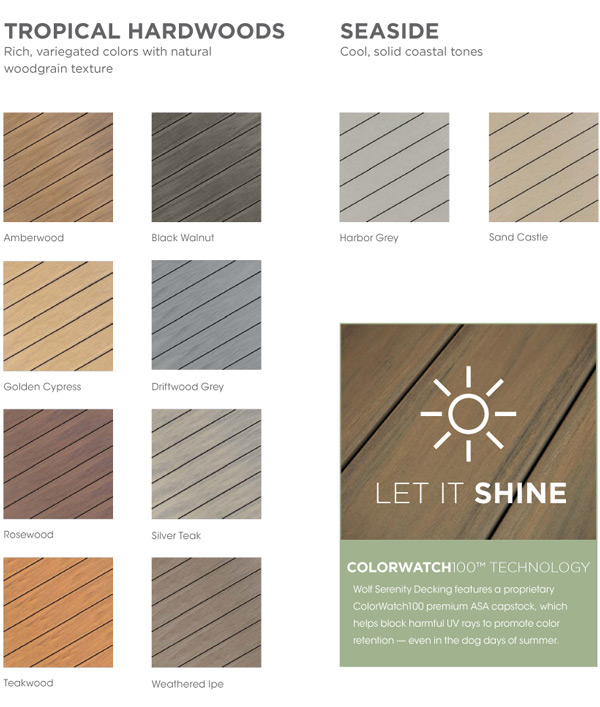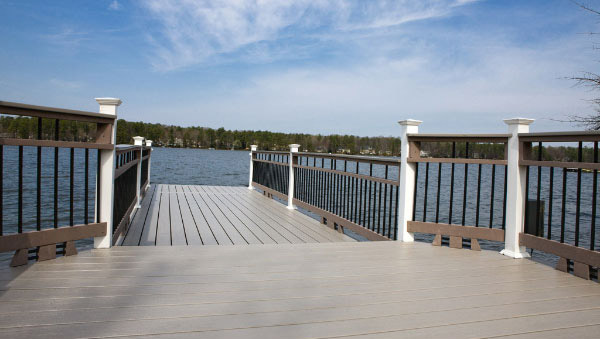 ---
WOLF SERENITY PORCH
Create curb appeal your neighbors will envy! Wolf Serenity™ Porch with High-Density Cellular Technology offers the same benefits as Wolf Serenity Decking, only it features narrower-width, tongue-and-groove boards that create a solid surface area in the customary style for porches.
Offered in two collections with 7 color choices, Wolf Serenity Porch also features a Limited Lifetime Warranty and a 50-Year Stain & Fade Warranty.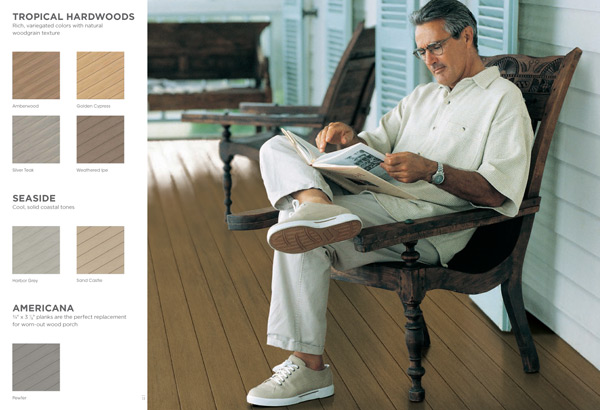 Also be sure to check out the complementary WOLF Rail products we carry.
---
Decking Sales & Design Services
Capps provides both sales and design services of Wolf Decking products to all areas of the Southwest Virginia area, including Roanoke, Lynchburg, Franklin County, Bedford County, Pittsylvania County, Salem and beyond.
You can now visit us at one of two locations! View Wolf products at our Smith Mountain Lake Design Showroom or our new Capps Window & Door Showroom in Roanoke, on Electric Road, open since summer of 2019.
---
Have A Question About Wolf Products?
Our resident decking experts are available to answer any question you might have. Their combined years of experience working with decking and railing products can provide you with the answers you need to get that home deck project completed in no time. Call to speak to one of our decking experts at 540-721-2276 to discuss your decking or railing project.
---
More Wolf PVC Decking Resources
Get more information on Wolf decking from the manufacturer
Watch this video on Wolf PVC deck products
Browse the Outdoor Living gallery on the manufacturers website