The Paint department at Capps Home Building Center stocks the most trusted
and sought-after brands in the industry – Benjamin Moore, Coronado, Ready Seal, Corotech, Cabot, Pro Luxe Sikkens and more.
---
Benjamin Moore is our flagship product line offering a full assortment of excellent coatings; from dependable economy-priced builder grades to ultra-premium decorator finishes. Utilizing advanced color-lock technology for ultimate color retention, these products offer superb durability and performance. With over 3800 beautiful colors to select from, Ben Moore offers the largest paint palette available in the industry.
The Coronado name is well known in the industry by seasoned professionals and homeowners alike. With a full assortment of interior and exterior paints and stains, Capps is proud to offer the Coronado product line to you…excellent quality at competitive prices.
As always, Capps continues to offer accurate custom computerized color matching services to meet your specific decorating needs.
At Capps, we offer an extensive variety of premium exterior deck and siding stains from all the top rated names on the market. Benjamin Moore Arborcoat, Coronado Maxum, Cabot and Sikkens are just a few of the high-quality brands our customers have come to trust and depend on.
Modern Masters and Studio Finishes by Benjamin Moore are our decorative paint lines, designed to help bring out the artist in you. We offer everything from faux finishing glazes and metallics to textured coatings and Venetian plaster.
Visit our in-store display of some samples of how you can create unique wall expressions for your home or business.
In addition to the best products we also offer the most knowledgeable and dedicated paint staff in the area. Together, The Paint Boys have more than 60 combined years of experience. We've heard it all and can answer just about any question our customers may have.
We also have an on staff artist, Jim Ashton, who is happy to help customers plan and bring their decorative painting projects to fruition.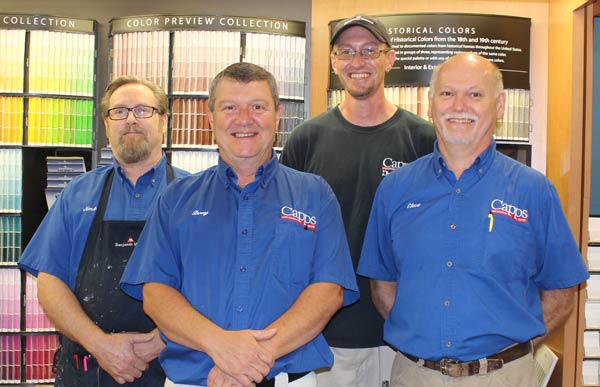 For our customers not looking to tackle their painting project themselves, Capps maintains a directory of professional painting and decorating contractors. They will be happy to offer you a competitive estimate on completing the task. Contact our Paint Department for more information.
Find out the difference The Paint Boys at Capps can make for your home or business. Visit our store at Westlake Corner, call (540) 721-2276 or email info@shopcapps.com