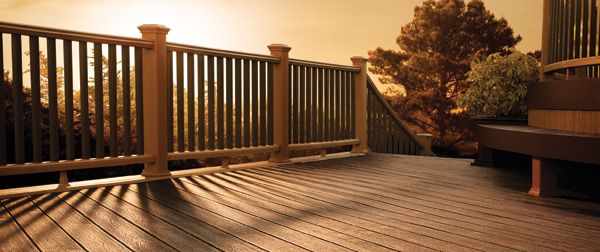 Capps is your top local supplier for the very best PVC and composite decking material at competitive prices. While most people only think of the broad term, composite decking material, there are actually 3 different kinds of construction materials used for new, low-maintenance wood-free decks: vinyl decking (also referred to as PVC decking or plastic decking), composite decking and a relatively new product called capstock decking.
All three options present different features, you just have to determine which one would work better for your specific building project.
Whatever decking materials you decide to use on your project, Capps has a wide variety of brands suitable for any size budget. Click on the logos below to see more detail on the specific brands we carry, available color choices and styles.
Here is a quick rundown of the differences between Capstock, PVC and composite decking material:
Composite decking material is a blend of other materials. It contains real wooden fibers, in addition to plastic products. In some cases, the plastic is recycled from milk jugs, plastic luggage or other materials that would otherwise be taken to a landfill. Additives like fiberglass, waxes and preservatives may also be included.
PVC decking is composed entirely of plastic resins. Some products make use of virgin plastic, while others may include recycled materials. Because this material does not include any wood products, some PVC decking materials, known as Cellular PVC, contain a foaming agent to make them look and perform more like actual wood.
Capstock is a fairly new kind of composite decking material that is made up of a plastic and wood fiber core (like composites) with an exterior layer of vinyl (PVC). You could consider this decking material a 'hybrid' of sorts, containing elements found in both composite and PVC deck materials.
Composite Decking Materials vs. PVC Decking vs. Capstock – Materials Appearance
Because they contain actual wood fibers, some composite decking materials can pass for real wood. If you choose a lower quality product, however, the materials could have an unnatural, plastic-like appearance. With PVC decking and capstock products, the boards have a more uniform appearance that can be attractive, but tend to offer more of a synthetic look. For PVC products with a more lifelike look, look into the cellular PVC decking products, which are generally colored with a number of natural wood tones to enhance their appearance.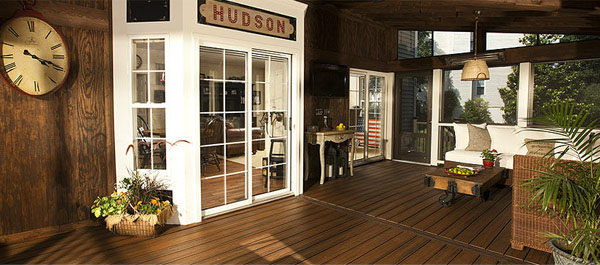 Mold Resistance in Composite Decking Materials, PVC Decking Materials, and Capstock Materials
Since PVC decking doesn't include wood materials of any kind, it is extremely resistant to the formation of mildew and mold. Composite decking, however, does include wooden fibers, so its resistance to mold and mildew is limited. In addition, composite decking could also be susceptible to moss and algae growth, so correct cleaning and upkeep is essential in preserving the deck's appearance.
Although capstock composites have an outer layer of vinyl protection, typically 1/16" thick, don't forget that the inner core can still be vulnerable to mold and mildew should water infiltrate. Many decks are still built with top-down screw installation, leaving tiny crevices that water could potentially seep into.
Composite Decking vs. Capstock Decking vs. PVC Decking – Fading and Scratching
Made fully from plastic, PVC decking is very resistant to scratches and nicks in its surface. The color does not fade easily either, so its surface can stay smooth and unmarred for many years to come. Likewise, the capstock decking materials display the same scratch resistant properties because of the outer layer of PVC material it has. Composite decking, however, is softer than PVC materials, so it can scratch easier. In fact, it's possible to lightly scratch the boards simply by rubbing them against each other as you transport them to the construction site. A composite deck surface is also more porous than that of a PVC deck, so stains can happen if food, liquids or grease are spilled on it.
Painting Needs for Composite or PVC Decking
Neither PVC decks, capstock decks or composite decks require painting, making each option durable and low maintenance for years to come. Traditional wooden decks require a minimal degree of maintenance, such as washing and painting as a result of climate variations in our area. Failing to correctly maintain the paint or stain on a wooden deck may cause it to warp and rot beyond recognition.
Price Variations in Decking Materials
Composite decking material is often the least expensive low maintenance decking option because of the smaller amount of plastics in it. However, because its higher resistance to scratching, staining and fading, PVC decking could prove to be a more cost-effective investment in the long run, but you can expect the initial cost to be slightly higher. PVC decking materials tend to have an extended lifespan, so you won't need to replace them as often. In addition, PVC materials have lower associated maintenance costs because they do not contain any wooden products.
The newest capstock materials are an exciting addition to the market with the cost-effectiveness of a composite, but with the durability of a more expensive PVC product.
It's important to take each of these considerations into account when you are thinking of building a deck on your house with composite decking material or PVC deck materials. Ensuring your deck will stay stunning and durable for years to come is a great way so as to add to the worth of your home or property!
Here's a few video resources on the popular Trex Transcend capstock decking product:
Need to know more about building a deck with composite decking material in your next outdoor home project?
We provide sales and design services for many brands of PVC and composite decking products and our experts are here to help you with any questions you have about creating the best deck for your home. Visit us and meet our capable team of deck building experts! Their combined years of experience working with decking and railing projects can provide you with the answers you need to get that beautiful new home deck completed in no time. Call to speak to one of our decking experts at 540-721-2276 to discuss your decking or railing project.
Other Composite Decking Material Resources
Finish out your deck with a wide variety of railings
More info on wood composite decking material
More info from one of our leading PVC decking material suppliers, Wolf Products
More info from one of our leading capstock decking material suppliers, Trex
More info from one of our leading composite decking material suppliers, Evergrain