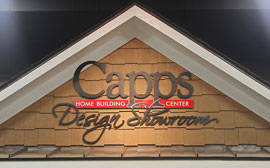 In late 2014, we set our creative minds to building a facility designed to provide customers with a new level of inspiration in home design and decorating, the likes of which have never been seen at Smith Mountain Lake!
We invite you to come explore our 5,000-square-foot Design Showroom filled with home products you can see and touch. Whether your next project is a home remodel or new construction, our in-house experts can help ensure success by walking you through it from start to finish.
If you are interested in our Design services, we invite you to book an appointment with us and our team will contact you within a few days to get started! Please feel free to request your appointment while browsing the showroom via sign up sheet, conveniently located on the front island, or simply give us a call. We value your time and want to ensure you have exclusive attention from our Design staff.
The Design Showroom at Capps Home Building Center will likely become a favorite stop for Smith Mountain Lake area residents looking to decorate or redecorate their homes. Our many home design vignettes will allow you to visualize your choices in flooring, moulding, siding, windows, doors, cabinetry and countertops.
You can also view the work of many talented craftsmen that helped put this magnificent collection of home ideas together.